Do You Have What It Takes To Go Pro?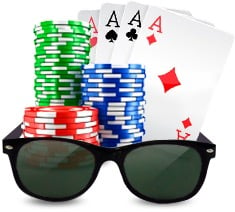 If you love poker, chances are you've fantasised about defying the odds and making your way to final table of the WSOP. The dream definitely doesn't end there either. You've probably imagined trouncing some of the biggest names in the game to earn your bracelet, fifteen million dollars, and more magazine covers than you care to count. Like most dreams, turning your poker fantasies into reality is the complicated part.
While making the final table in a massive tournament might seem like an elusive goal, becoming a poker pro is definitely within the realm of possibility for many fans of the game. When you consider that you don't need to win a popularity contest or earn a fancy degree to get your professional designation, success might just be in your grasp. Read on to see if you have what it takes to have a brilliant poker career.
Get Ready To Study
Wanting to go pro is all well and good, but you'll need the skills to make it happen. If you play online for fun and have already amassed an impressive bankroll plus victories against fierce opponents, then you might be a candidate for going pro. Keep in mind that success is simply a stepping-stone to going pro. Even if you've already developed a solid skill set and have the track record to prove it expect to study and practice constantly.
Being a successful pro isn't just about reading all the right books or enrolling in the correct courses. With the global explosion of the game over the last decade, players have become better overall. What works for you now might not cut it a year or two from now. Your total approach will need to evolve and you must put in the time to make that happen. Be prepared to meet with experts, review all your hands, analyse your statistics, and repair your leaks constantly. Expect to spend even more time studying than playing.
Common Traits Of Successful Poker Pros
Resilience
Discipline
Patience
Dedication
Adaptability
Meticulousness
Perceptiveness
Do You Know Where Your Passport Is?
Chances are if you go pro you'll ultimately spend more time playing in live tournaments. While the Australian poker scene is flourishing, it doesn't compare to the European and American scenes. That means you should prepare to pack your bags if you plan on going pro.
Yes, Australians do love travelling and there's no doubt being a poker pro is a great way to see the world or at least parts of it. It beats heading to the same office every day or being that guy who plays his didgeridoo in front of Port Jackson. Still, the lack of stability and living out of hotel rooms isn't for everyone. Factor in the cost of international airfare, especially when you're just starting out. You can see how quickly the bank can break.
It Takes Money To Make Money
For every Chris Moneymaker who wins the WSOP Main Event after scoring an online seat, there are thousands of others who pay cash and have nothing to show for it. You may not realise it but many poker pros have made names for themselves simply because they can afford to play in high profile tournaments. They aren't terrible players, but you constantly see them simply because they can buy their way into the game. Whether this money comes from previous poker winnings, an inheritance, or unrelated ventures is another matter entirely. Obviously your aim as a pro is to win and parlay those winnings into further winnings.
It's Business Time
They say business and pleasure rarely mix well. If you decide to go pro, expect poker to be your job and your livelihood. Will you continue to find poker appealing at all, or will it become a burden that no longer seems worth it no matter how it pays off. You won't just be playing for fun when you start doing formal accounting and paying taxes on your winnings. Of course the dream is to love what you do. Poker could make that possible.
Do You Like Stability?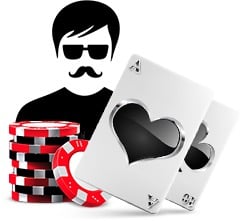 What are you doing next week? Do you have a family? Are you pregnant? Being a poker pro comes with irregular hours and almost random schedules. The lifestyle doesn't mesh well with traditional family life for most. You'll need to be a free spirit or some kind of maverick no matter how you fare at the tables.
Being a poker pro doesn't just affect the regularity of your income, but it can also sabotage a career. How is that five year gap going to look on your resume if this poker thing doesn't work out? Still many people are up for the adventure. For some poker and all it offers makes them feel alive.
Dollars And Bracelets
Being a poker pro isn't a get rich quick scheme. Even if you are successful you can expect plenty of ups and down. Can you save enough in the good times to carry you through the bad times? What if the good times never return? They say slow and steady wins the race, yet what if you run out of fuel prematurely? This isn't designed to scare you straight. You simply need to know that even the biggest names in the game have had their backs to the wall.
Do You Have The Discipline?
Being a poker pro could be the gateway to the adventure you're after.
If there's one feature that successful poker pros have in common it's discipline. We're talking about the discipline to stay the course in good and bad times. You need to have the emotional strength to bounce back after any defeat. You need to see the forest for the trees and be resilient in your attitudes and approach. In the long term the game itself will change as the next generation takes over. Do you have the stamina to join the party and stay to clean up afterwards? Can you stomach what's about to happen, even if you don't know what it is? Successful poker pros can't afford to be reckless either on or off the felt.
Of course, successful people will be the first to tell you they would be nothing if they were averse to risk. Sometimes there's a single decision that alters your life and everything that follows forever. Being a poker pro could be the gateway to the adventure you're after.
Questions All Potential Poker Pros Should Answer
What's your motivation?
Will you be able to live off your winnings even if they are miniscule at times?
What are the odds of succeeding and can you handle them?
Will you be happy or will poker become a chore?
Do you have a backup plan?
How long will it take to be profitable or sustainable?
What will you do if you lose it all?