History Of Poker In Australia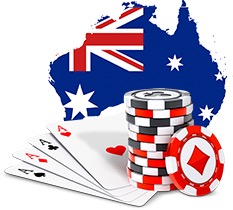 Gambling is so ingrained in Australian culture that there might as well put a pokie on the flag. When you factor in the popularity of sports wagering, gaming machines, table games, racing, lotteries, scratchies, and online fun, we might be the world's biggest gamblers. The Australian Government's most recent estimates suggest more than seventy percent of us gamble in some form to the tune of more than $16 billion annually.
While poker might not dominate the Australian headlines and is arguably a game of skill, it does have a storied past and a burgeoning future that's worth celebrating. Let's take a look at where the game of poker has been and where it's going on our great continent.
Humble Beginnings
They say if you can make it in America, you can make it anywhere. When you consider poker's popularity in Melbourne, Sydney, Perth, and all points in between, it's hard to believe poker hasn't been around forever. In reality, poker and especially Texas Hold'em are American imports that are simply a natural fit, even if they've only been popular in these parts for a couple of decades.>
Like the rest of the civilised world, Australians have been playing cards for fun and profit since the colonial days. Who doesn't know how to play classics like five hundred, euchre, Swedish rummy, hearts, and fish? Mastering these games is actually the perfect foundation for successful poker playing, which is why we've embraced the game as much as a koala does eucalyptus leaves.
The Internet Is Born
Until the 90s, the average Australian's familiarity with poker was likely limited to whatever Hollywood exported across the Pacific. While more than a few of us have made our way to Vegas, the poker rooms themselves were never as accessible as traditional table games.>
It wasn't until the internet made its way into our homes that poker was able to truly shine. Early internet chat relay games gave way to the first online poker rooms by the late 90s. Within a few years Draw Poker, Omaha, Texas Hold'em, and 7 card stud made their way into the Australian and global vocabulary. Great things were beginning to brew.
The Crown Australian Poker Championship
In 1997 something remarkable happened in Melbourne. The Crown casino opened its first poker tables. The following winter The Crown hosted the Australasian Poker Championship, a tournament with a $74,000 prize pool. Although that may seem tiny compared to what's out there today, it gave way to the Australian Poker Championship in 2001 with a $200K prize pool. Two years later the annual tournament went international and topped $1 million dollars. If you wonder why the Australian Poker Championship no longer makes headlines, that's because it was renamed the Aussie Millions in 2014 and now features a healthy prize pool in excess of $6M.>
Online Explosion Down Under
While the Australian Poker Championship was busy whetting the public's appetite for poker, online poker sites were delivering the equivalent of a seven-course meal. With online poker available around the clock thanks to sites across the globe, Australians started logging on in droves in the early 2000s. They were playing, winning, and making names for themselves.>
In 2005 the Australian poker landscape changed forever when Melbourne's Joe Hachem won the 2005 World Series of Poker. His $7.5M win undoubtedly inspired an entire generation of Australians to take interest in the game.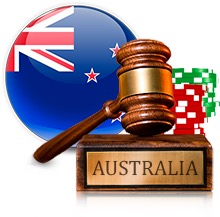 2013 WSOP APAC
Since Melbourne is 13 000 km away from Las Vegas, it only makes sense that the Southern Hemisphere should have its own WSOP Main Event. Justice was finally served in 2013 when the inaugural 2013 WSOP Asia Pacific tournament took place in Melbourne. The now annual tournament features ten notable events in October. The timing is particularly perfect as the poker world waits for the November Nine to resume play shortly thereafter. Visit www.wsop.com/2014/apac/ for complete tournament details and highlights.>
Famous Australian Poker Players
Joe Hachem - 2005 WSOP who put Australia on the poker map
Antanas "Tony G" Gouga - Retired Aussie with over $4M in pro winnings
Mel Judah - Two-time WSOP bracelet winner in 1989 and 1997
Mark Vos - Australian and South Africa with 2006 WSOP bracelet win
Marsha Waggoner - The Grand Dame of Poker and member of the Women in Poker Hall of Fame and Australian Poker Hall of Fame
Some Key Dates And Looking Ahead
It's over 20 years since Australia started to enjoy online poker gaming. Sites that could rival the country's best physical casinos soon became very popular. While the Interactive Gambling Act might mean that online poker has to be played at sites based abroad, the popularity of the game hasn't abated. Players today are drawn to an ever diverse range of games and tournaments, as well as faster and slicker software on their games.
With the revenue and popularity of the game, it seems unlikely that the situation regarding domestic online poker rooms won't be reviewed in the future. Until then, Australian players are more than happy with the huge choice of international online poker rooms they have available to them. These sites offer the fullest selection of poker variants, and tournaments to suit all skill levels. They also allow players to wager in AUD.
A Short Chronology of Australian Online Poker
June 1997 - Poker first appears in the Crown Casino, Melbourne
January 1998 - The first big online poker room, Planet Poker, opens
June 1998 - The first Australasian Poker Championship is held
June 2001 - The Interactive Gambling Act is passed by Australia's government
January 2003 - The prize pool for the Australian Poker Championship passes $1M
November 2006 - WSOP is won by Australian Joe Hachem
January 2008 - The Crown Australian Poker Championship prize pool tops $7.46M
October 2013 - The annual WSOP Asia Pacific tournament runs for the first time
February 2014 - Melbourne hosts the first Aussie Millions tournament