Tournament Types Explained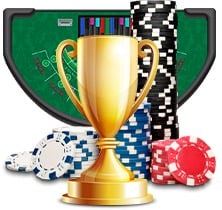 While cash games are great for sharpening your poker skills or playing a few quick hands, you'll find far more excitement in the tournament schedule. From a quick heads-up Sit and Go that gets settled in minutes to day-long multi-table tournaments with half a million dollar prize pools, your options are endless. Whether you choose to play online, in Melbourne, or on the legendary Las Vegas strip, we'll get you up to speed on tournament play.
Tournaments At A Glance
Tournaments can feature anywhere between two players at a single table to thousands spread out across numerous tables.
Entering a tournament is as easy as paying the buy-in, although there are free tournaments known as freerolls.
The actual dollar value of each tournament chip is irrelevant. Prizes are awarded on your final standing in the tournament.
Tournaments end when one player has all the chips.
Most tournament formats award prizes to more than just the winner.
Some tournaments offer rebuys, which means you can rejoin if you get knocked out.
Rebuys, if available at all, are only offered for a limited time and for a specified price.
Seat assignment and reassignment happen randomly in most tournaments.
You'll find tournaments for most variations of poker, every budget, and at fixed, pot, and no limits.
History And Future
Australia embraced the move to online poker rooms back in the '90s, and player numbers have grown ever since, even if in recent years the popular poker sites have been exclusively abroad, rather than based in Australia. Online gambling for now is controlled by the Interactive Gambling Act, though future changes to how things are organised, and where sites can be based, are likely.
Key Dates In Australian Poker History
June 1997 - Crown Casino opens first poker tables in Melbourne
January 1998 - Planet Poker, first major real money online poker room opens
June 1998 - First Australasian Poker Championship takes place
June 2001- Australian Parliament passes Interactive Gambling Act
January 2003 - Australian Poker Championship prize pool tops $1M
November 2006 - Australian Joe Hachem wins WSOP
January 2008 - Crown Australian Poker Championship tops $7.46M
October 2013 - First annual WSOP Asia Pacific tournament
February 2014 - First Aussie Millions tournament takes place in Melbourne
You can expect some legislative changes in the near future that will actually help foster the game. As the government aims to get a piece of the gambling pie from licenses, taxes, and other sources, you can expect domestic online poker rooms. This has already happened in some US states and Canadian provinces, which are culturally similar. In addition, it's worth noting that poker is a game of skill. Your success isn't based solely on chance, which means it's not gambling in the strictest sense of the world. That's definitely something that the government will consider.
Buy-Ins And Prizes
In order to enter a tournament, you'll need to pay the buy-in. Open tournaments are available for anyone to enter but you'll need an invitation to enter an invitational tournament. Buy-ins range from free to a million dollars in the WSOP's famous BIG ONE for ONE DROP.
The buy-ins usually form the basis of the prize pool. Although tournament play continues until only one player remains, multiple players will get paid. Prizes are either awarded to a fixed number of top positions or proportionally to a top percentage of finishers, which will vary based on the number of entrants. Some tournaments have guaranteed prize pools, which means that the poker room will top up the total to the guaranteed amount if there aren't enough entrants.
Multi-Table Tournaments
For the sake of brevity, multi-table tournaments are usually abbreviated as MTT. MTTs operate exactly like the names suggest. They are simply poker tournaments with more than one table. Players play simultaneously across a number of tables. The exact number of tables can range between two and thousands. As players get defeated, tables get consolidated. The most famous MTT is the World Series of Poker, which last featured 6683 entrants playing for ten million dollars.
Most MTTs are scheduled in advance, although some sites do offer Sit and Go MTTs that begin when enough players take their seat.
Single Table Tournaments
Single table tournaments or STTs feature a single table and end when one player has amassed all of the tournament chips. Most STTs are Sit and Go tournaments, which begin when enough players show up to play. This format is discussed below.
Sit and Go Tournaments
Sit and Go tournaments, otherwise known as SNGs, let you experience tournament action on a whim. Browse the schedule for an available seat. The action will begin when enough players show up. On high traffic sites, you can expect to start playing in a few minutes or a matter of seconds if you get lucky. Most SNGs have a single table structure, although you will find multi-table SNGs on occasion. Regardless, the common thread is that you can take your seat and start playing.
Satellites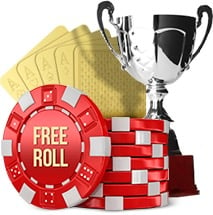 Satellites are affordable poker tournaments that let you win your way to larger or more expensive poker tournaments. Rather than winning a cash prize in a satellite tournament, the prize is the buy-in to a coveted tournament. Many online poker sites have a series of satellites, which means players can make their way to top events for pocket change provided they can win a few tournaments in a row. Satellites go by different names on various sites including step tournaments or qualifiers.
Freerolls
Freerolls are tournaments that are free to enter. They're great for honing your skills while competing for real prizes, which can include cash, swag, gifts, or entries into more lucrative tournaments. While freerolls have no formal entry fee, some tournaments do require players to buy in using reward points. While some freerolls are open to the public, others require an invitation. Many sites offer entries to new sign ups or as rewards to valued players. Don't confuse freerolls with the free tournaments held on play money sites.
Double or Nothing Tournaments
Frequently called DoNs, Double or Nothing tournaments give you the chance to get twice your buy-in back or nothing at all. These Sit & Go tournaments typically feature eight or ten players at a single table who play until half the players are eliminated. The remaining players double their money by winning twice their buy-in. The losers get nothing.
With no distinction between first and fourth place, DoNs are all about survival. If you have the patience to sit tight and wait for quality starting hands, your opponents can duke it out and do all your dirty work.
Other Tournament Terms You Should Know
Heads Up - Features just two players per table. Can feature a single table or multiple tables.
Deep Stack - Tournaments featuring more chips than usual.
Turbo - Tournaments where the blinds increase faster than normal.
Shoot Out - MTTs where tables aren't consolidated until each table has just one player remaining.
Re-buy - Players can re-enter a tournament for a price and set period of time after being eliminated.
Freeze Out Tournaments - A player is out of the tournament for good after running out of chips.
Bounty - The cash bonuses you may receive when you eliminate a player from a tournament.
Tournament Trivia
Tournament prizes range from a key chain to millions of dollars and a WSOP bracelet.
Although it's technically possible for poker rooms to run tournaments for any kind of poker, most sites simply try to meet demand and avoid disappointing their players with cancellation.
Did you know that it's possible to satellite your way to riches? In 2003 Chris Moneymaker won the WSOP thanks to a $39 satellite buy-in.