Online Versus Offline Poker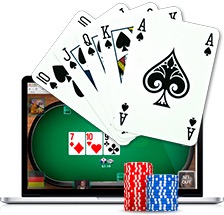 When it comes to playing poker, online action reigns supreme at least in terms of popularity. It's easy to overlook all the action that plays out in casinos and private games across the continent. That's probably because just like everything else on the internet, online poker is simply more accessible. Everyone knows convenience is king!
There's no question that leading online poker sites deliver authentic experiences. In fact many sites elevate the game to such great heights that you'll actually need to alter your approach depending on where you play. Whether you play online or offline, understanding the differences is fundamental to your success. We'll walk you through the key differences and help you get the most out of your game, wherever you find it.
Learning Curve
Online poker is arguably the best place to learn the game. You can register on any number of great sites without spending a dollar. You can get a feel for the action, learn the rules, and develop a strategy in the comfort and privacy of your own home. Even if you play poorly, you can retreat with your dignity intact since the games are anonymous. You'll not only be able to practice whenever you feel like it, but you can take notes and refer to resources whenever you play.
When you play offline, you'll not only have to endure the cost of getting to the closest casino but you'll be investing time too. Learning at a casino can be tricky even if you know the rules since you can't readily refer to educational resources and aids while you play. Even if you read all the books and manuals beforehand, putting that knowledge into action is another matter entirely. Remember you'll be trying to outwit your opponents at the same time. If you play poorly, your lessons will be valuable at least as far as your bank account is concerned.
Game Choice
When you choose to play online, your options are endless. While your local casino might offer Texas Hold'em and Omaha, online casinos offer every poker variation imaginable. Play everything from 2-7 Triple Card Draw, Courchevel, and HORSE to Triple Stud and Badugi.
Online poker sites also offer a bigger variety of stakes at your choice of limits. Thanks to the presence of players from across the world, it's easy to find a game you like online without waiting. If you don't like your opponents or the pace of the game there are a thousand other options. Australia's top poker rooms have a limited selection of tables. Some only offer cash tables when you might fare better in a tournament. If you don't like the action when playing offline, you might have to call it a night.
Spreading Yourself Out
Playing online gives you spectacular powers, namely the ability to be at more than one place at the same time. Thanks to multi-tabling on most online poker rooms, you can easily play two, four, eight, or more tables at the same time. You can even play several different kinds of poker in unison. It's a great way to pick up the pace and eliminate the gaps between your turns. Multi-tabling also lets you find the best tables and dispense the weak ones without skipping a beat.
At the same time, it is possible to spread yourself too thin and lose focus. Robotic poker play isn't fun even when it's profitable. You might as well day trade on the stock exchange. Live poker lets you focus on the action at hand, which can be therapeutic in this hyper speed high-tech world. Spreading yourself out isn't comfortable for everyone.
All The Right Skills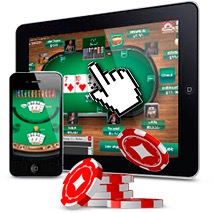 Compared to playing at your local casino, succeeding at online poker takes a completely different skill set. While you'll certainly need to know the rules and probabilities no matter where you play, success at online poker is more about statistics and data analysis. Successful online players tend to plays lots of tables at once, analyse their data, and tweak their play accordingly. Expect to review your own hand histories and play, but also the tendencies of your opponents. Today's poker tracking software can reveal the tendencies of your competitors as you play.
When you play live poker, you'll need to rely on the traditional skills that make poker famous. Your success is highly dependent on your ability to read your opponents and outwit them in a game of psychological warfare. You'll see their hands tremble, brows drip with sweat, and smell victory from across the table.
Knowing The Score
You'll always know the score when you play online. You'll see your chip count, opponents' standing, and money in the pot at a glance. It's easy to keep tabs on your personal finances while you play if necessary. When you play offline, you'll need to stop and think about all these things. All these thoughts do slow down the game and can cloud your ability to make informed decisions.
Community Spirit
Although you can chat with your opponents online and participate in forums or message boards, nothing compares to in person interactions. You know that feeling when your nemesis walks into the casino and takes a seat at your table. Things are about to get personal. The online equivalent just doesn't carry that kind of weight since it's wrapped in an anonymous avatar.
There is also a large poker community, especially on the professional level. These are the characters and forces that you've seen on television. It's hard to be a part of it if you limit yourself to online play.
Promotions And Incentives
While offline poker rooms offer free hotel rooms, drinks, and perks to high rollers, even small time players can cash in online. With over a hundred online poker rooms competing for your business, most of them are willing to earn your attention with sign up bonuses, cash rebates, and prizes.
Worlds Are Destined To Collide
At their best, the online and offline poker worlds are on a collision course. The dream of most online poker players is to play in the Aussie Millions or World Series Of Poker. While these landmark events happen in the physical world, top online poker sites can help you get there. Take advantage of tournaments online to win seats in landmark events. You wouldn't be the first poker player to crawl through the online woodwork into the Vegas limelight.
Why Play Online?
Great for learning the game
Perfect for privacy and anonymity
Ability to play at any hour from anywhere
Affordable and even free games
Better game selection and range of stakes
Can use software and tools to improve play
Faster gameplay with option to play multiple tables at once
Great incentives, rewards, and promotions
Why Play Offline?
Huge tournaments like the WSOP and Aussie Millions are only offline
Easiest way to be taken seriously by the poker community and press
Experience that classic poker feel as seen on tv and film
Offers human contact, camaraderie, and rivalry
Slower pace and more mental gameplay might suit some players