Benefits of Playing Online Poker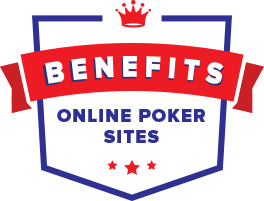 Online poker has been around since 1998, and its popularity grows every year. Australians have a wide choice of poker rooms they can play at online, all offering the world's best tournaments, bonuses and promotions. So it's no wonder thousands of players enjoy poker online at sites run outside of Australia.
And there are many benefits you can enjoy while playing some Texas Hold'em online, and we'll highlight the greatest ones below.
Poker action around the clock
Online poker rooms are open 24/7. Even with the time differences between Australia and Europe, there will always be games running when you log on.
Formal attire not required
You are playing poker from the comfort of your own home and you don't need to get dressed up in order to be dealt a few hands. Also, when you get a big smile on your face as you're dealt AA, your opponents won't see it!
Step to the head of the line
There is little to no waiting for a game to get started, at least for cash and Sit and Go tournaments. And while tournaments start online according to a posted schedule, there are so many of them that you'll rarely have to wait to jump into one.
Exit, stage left
Online software gives you advantages that live casinos just can't provide.
Not only is it easy to jump into a game quickly, but when you're playing online you can leave a table as soon as you like. Only have 15 minutes to play before you have to get back to your Uni studies? Join a game and then leave it without any worries.
Whatever your heart desires
There is always a large variety of games to be found online. Less popular games that might not be offered at a local casino, such as Razz, HORSE, or Omaha Hi/Lo can usually be found online at any time of the day or night.
Meet a few thousand new friends
Online poker offers a big advantage in the size of the player pool. Even the smaller online sites have thousands of players, giving you a huge variety of people to play against. And because the majority of poker players are not very good, lots of players means softer cash games and tournaments.
Give me more, more, more!
Dealing online is much faster than it is live, so you will play many more hands per hour. If you play more than one table at once (try that at your local casino!) you increase the number of hands you're being dealt even more. That allows you to gain experience rapidly.
Other ways to get more out of your money
Many online poker sites give you a bonus when you deposit. You could sign up for a site and get double your money, guaranteed! And don't forget that you never need to tip a dealer online. There are often special club promotions or leader board series where you can earn points that can be converted to merchandise or free entry tickets.
There is such a thing as a free meal ticket
Let's not forget that online poker sites offer daily freerolls, tournaments that are free to enter. The money you could win is real! Some sites also have freerolls for new depositors, adding another way to get some free money.
It's not just about playing in your underwear
Online software gives you advantages that live casinos just can't provide. Software, either provided by the site or special programs you can buy or use free, has been created to make play easier. It is simple to see chip counts, stack sizes, pot odds, and blind and bet sizes. There's no need to worry about someone acting out of turn or the dealer making a mistake. Best of all, you can take notes on your opponents without them ever knowing.