Citadel Deposits for Online Poker Rooms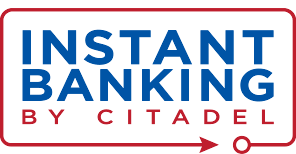 Instant Banking from Citadel offers Australian online poker players a fine solution when it comes to making fast cash deposits. Citadel, which was founded in 2000, has found a way to make online poker room deposits virtually effortless. There's nothing more frustrating for a poker player than missing their favourite tournament because their deposit is held up.
With Instant Banking it takes just a few minutes to fill out the cash transfer form and deposits take seconds, as Citadel creates a safe and secure bridge that allows you to take real money from your bank account and deposit it into your online poker account.
Inexpensive, fast, safe, and secure online poker deposits
Never compromise your banking information
Complete your deposit from start to finish online in mere minutes
Citadel's Instant Banking requires no pre-deposit into an e-wallet, no account set up, and no third party sharing of your information. You can make deposits online from your Mac or PC or via your smartphone or tablet. Make a deposit at any time and on any day. There's no need to have your online poker room approve your deposit. Once the cash is in your account you can start playing cash games, sit and goes, or tournaments.
How Instant Banking Works
Instant Banking utilises premium security software and a process that eliminates the need for players to share their banking information with their poker room. In fact, the only time that your account number is shared is when you transfer cash to Citadel, which then instantly puts the money into your poker account. The Instant Banking process involves just a few short steps.
The cost for all of this security, convenience, and efficiency is merely 1.5 units of your local currency, making Instant Banking one of the least expensive ways to out cash in your online poker account.
First, go to the banking page of your online poker room. Select Citadel, or, as it may be listed, Instant Banking. It may also appear as Direct Banking, or Internet Banking. Once you make the selection, you'll be directed to a new page where you'll be asked to supply some basic information.
That information includes the amount that you want to deposit, your bank's routing number, and your bank account number. You are only sharing this information momentarily with Citadel. After you fill out the form, you'll be asked to choose your bank, and you'll be taken to it. At that point, you'll log in and be asked to approve the transfer. Citadel will in no way have access to your user name or password.
Once you approve the transaction, Citadel will transfer the cash into your Australian online poker account. It will be credited and available immediately. The cost for all of this security, convenience, and efficiency is merely 1.5 units of your local currency, making Instant Banking one of the least expensive ways to out cash in your online poker account.
Advantages of Citadel for Australian Poker Players
In Australia, Citadel is one of the most trusted and respected cash transfer services. Australian players find that it offers them premium, low-cost service and the ability to make effortless deposits at some of their favourite poker rooms. Australian players are not only able to make deposits at premium poker rooms around the world, but, also, if they want to make deposits at online casinos, Citadel can facilitate that process too. Citadel's Instant Banking is a versatile, simple to use electronic cash transfer service.
"With Instant Banking by Citadel you'll never miss a poker tournament because your online poker deposit is held up or you're waiting for it to be confirmed."
Australian players also like the fact that Citadel keeps all personal information safe, never sharing it with an online poker room or any other third party. Australian poker players who are concerned about Internet safety find that Citadel's advanced encryption software ensures their security. Passwords, account balances, and bank account numbers are never exposed.
Transactions are easy to track, as each transfer is recorded on your bank statement as "Citadel Commerce." Only you have access to these records. You can utilise Instant Banking through your Mac or PC or through your smartphone or tablet. Easy access is a priority for Citadel.
Australian players love how simple it is to use Instant Banking by Citadel. There's no need to download a software application, to set up a separate account, or to alter your online poker or bank account. With Instant Banking, Citadel has kept all labour to a minimum.
The Best Citadel Poker Rooms
Australian players can find the best Citadel online poker rooms right here. We have evaluated a wide range of rooms comparing their bonuses and promotions, deposit options, software, customer service, and game variety. In doing so, we offer you connections to quality Citadel online poker rooms that accept Australian players.
Take a moment to review each of our listings, to check out the various bonus offers, and to consider game choices. Whatever you're looking for, from micro to high stakes cash games, freerolls, six-seat sit and goes, and other types of poker offerings, we've got the connection that you want. Play games like Texas Hold'em, Omaha. Omaha Hi-Lo, Stud, and HORSE. All of these and more are available at the Citadel online poker room of your choice.
Frequently Asked Questions
Below is a list of FAQs focusing on Citadel and its available money transfer products. Please use these questions to learn more about Citadel and how you may use it to fund your online poker account.
What is Citadel?
Citadel, which is based in Canada but also has international offices in the U.K. and Malta, offers instant money transfer products designed to make online purchasing fast, easy, and secure. Citadel's products are available in over 20 countries. The services offered by this international company are popular in Australia. Citadel, which was founded in 2000, is a subsidiary of Entertainment Systems Inc. (ESI).
How does it work?
There are various money transfer products offered by Citadel. Its e-wallet, My Citadel, was popular for some time, but since then Citadel Direct Internet Banking has become preferred. Citadel Direct Internet Banking is available at many online poker rooms, including those in Australia.
Citadel makes it easy for consumers to use their services. You do not have to sign up for a Citadel account and the paperwork is minimal. First, you start by choosing Citadel from the poker room's banking page, which may not be identified as "Citadel," but rather may be listed as Instant Banking, Direct Banking, or Internet Banking. After doing so, you will be directed to a new page.
You will then be asked to follow one of the following procedures:
Payment Assistant Application – You use your bank account in this online process during which you'll download an application from your poker website. The application allows you to transfer your cash into your online poker account.
Citadel Webpage – Sometimes players will transfer money into their poker account by being directed to and accessing the Citadel webpage. Follow the simple instructions, which will quickly coordinate the transfer between your online bank account and online poker account.
Rapid System – Using this Citadel system, you'll be given a reference number that may be used to move money from your bank to your poker account.
The most common procedure is for the online player to go to the cashier or banking page of their online casino. At some point, you will be asked to supply your banking information, including the your bank's routing number and your account number. Once all paperwork is done and the information is confirmed, the transfer process will be facilitated and quickly completed.
Do they allow online poker room payments?
In Australia and many other countries, a large number of online poker rooms allow payments utilizing Citadel Direct Internet Banking. Commonly, you will find this service listed on the poker room's banking page as "Citadel" or "Instant Banking." Australian poker players like using this method, as it is fast and simple to use.
Is it safe to use?
Yes, Citadel is known as being an extremely safe payment method. First, and foremost, it's considered to be safe in that those who use Citadel never share their personal banking information with their online poker room. The money transfer form only offers that information to Citadel, and the company utilises that information to withdraw cash from your account. They do not have to share your account number with anyone else.
How fast are deposits & withdrawals?
In using Citadel, one of the things that consumers like best about the system is that deposits take seconds to complete. Once Citadel confirms the cash is in your bank account, it is withdrawn and deposited into your online poker account. After it is in your poker account, you have immediate access to it.
Instant Banking withdrawals may be available through your poker room. Prior to using this service, if it is offered, it's suggested that you contact your poker room's customer service department to inquire about fees and the amount of time the process will take. Not all online poker rooms that provide Citadel as a deposit method also offer it for withdrawals.
How does it compare?
Players find that when compared to other deposit methods that Citadel does well. It is very safe and secure, as your personal banking information is never shared with another party and Citadel utilises the very finest and latest encryption methods. Plus, no passwords are exposed.
Also, those who use Instant Banking like the fact that they are funding their poker account using cash and not credit. That means that they are keeping their credit card information safe, and there are no finance charges associated with their deposit.
Players, who like to be able to access their funds instantly, find Citadel Direct Internet Banking transactions to be convenient. They like the fact that once funds are deposited into their online poker account they may use them at the poker table immediately.
Are there any fees involved?
The good news is that Citadel charges very low fees for their services. The cost is 1.5 units of local currency per transaction. Players may also want to check with their bank or online poker room, as they may charge a fee for withdrawals or deposits.