Blacklisted Poker Sites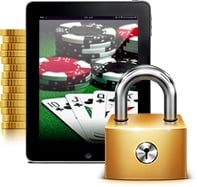 The online poker world has had more than its share of scandals. Yet that doesn't mean all the proverbial apples in the online poker orchard are rotten. What you really need is a guide, map, or expert to lead you to the truly great poker sites while steering you clear of those blighted sites. Thanks to the rise of poker blacklists, you no longer have to throw caution to the wind. Discover which sites should be avoided and why, without paying the price firsthand.
Online Poker Perils
While it may sound like an exaggeration, where you play can matter more than how you play. If you put your faith in what proves to be a sketchy site, the cards you're dealt may not be fair, your winnings may never be paid out, and the site might not even exist the next time you try logging on. While this is certainly three worst-case scenarios rolled into one, it has happened before. The point is that your choice of poker room is something you can't afford to take lightly even if you play strictly for fun.
Player Beware
Let's face it. When you play online you can't just ask to see the pit boss or threaten to contact the ombudsman. You are putting your faith on a management team headquartered on some distant continent. You are choosing to trust computer algorithms that you'll never be able to personally audit. The solution is to use the available information to your advantage. With blacklists you can learn not only which sites are truly terrible or even slightly suspect but also why and how often.
Reasons Why A Poker Room May Be Blacklisted
The worst poker rooms usually have a litany of complaints. They tend to be notoriously bad to the point where a simple google search of the site's name will lead you to pages and pages of issues. Finding fault without suffering firsthand isn't always that easy, which is why blacklists exist in the first place. Here are some of the most common reasons why a poker room appears on a blacklist:
Operates without a license or holds an invalid or fraudulent license
Fails to provide fair and random games
Violates own terms and conditions
Offers poor customer service
Permits players to be scammed through software glitches or secret backdoors
Processes payouts slower than posted standards or arbitrarily holds funds
Refuses to pay players either by cancelling or delaying payments
Allows convicted cheaters to continue playing on the site
Cancels tournament guarantees due to a lack of player enrolment
Compromises player security or personal information
Lacks commitment to protecting player bankrolls
The Australian Experience
The Australian online poker scene is unique, largely because players are exclusively using overseas poker rooms to play. This is because Interactive Gambling Act offers no restrictions to Australians enjoying online action offshore. While these regulations are likely to change, it does mean that all the leading online poker sites for Australians operate overseas. The top sites actually offer action to players from all over the globe. You may have noticed that many of the top tournaments take place outside of our prime time even if they have dedicated Australian customer service or campaigns. When the company you do business with is thousands of kilometres away, a blacklist carries even more weight.
Australia's Own Blacklist
While general blacklists are invaluable to Australian players, American blacklists may not be wholly relevant. The United States has bizarre online poker regulations that vary in each state, which can cause major complications for American players but not for players elsewhere across the globe. That means what looks like a brazen red flag to an American can often be ignored by Aussies. It's best to consider the context and consult multiple blacklists for the big picture.
Size Doesn't Always Matter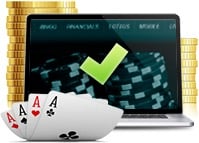 Many new players think blacklists are pointless. They'll usually just follow a banner advert or put their faith in one of the more popular sites thinking nothing could possibly go wrong. While there's certainly safety in numbers, bigger isn't always better.
Although popular sites certainly have a reputation to uphold, sites have shuttered their digital doors without warning. Still many blacklists spotted the warning signs. Licensed and publically traded poker rooms tend to be more accountable, at least to their stakeholders, and more transparent overall. Yet that doesn't mean they're perfect. There are benefits to playing on smaller sites, so long as you choose your site wisely.
Be Up To Date
The poker industry isn't just highly competitive but it continues to evolve rapidly. Many of the biggest sites from a decade ago no longer exist. Sites with plenty of potential pop up every year. That's why it's important to make sure you rely on reviews and blacklists that are up to date. Newer sites might not even be mentioned on old blacklists and borderline sites may find themselves under new management. Information is power but only if it's current.
Heed Our Wisdom And Share Yours
While our blacklist and other top resources are invaluable, they are simply a starting point. They wouldn't exist without the input of players who have shared their experiences with the public. Don't be afraid to send us your thoughts and participate in online forums. Social media like Facebook and Twitter are also gaining traction since you can share your feedback in the world in real time.
Better Safe Than Sorry
Your mum was right. It really is better to be safe than sorry, especially at play. The fact is there are dozens of reputable and worthwhile places to experience online poker. There's no sense throwing caution to the wind and ignoring the experts. Read the reviews, browse the blacklists, and enjoy your time at the tables. Wouldn't you rather concentrate on the cards you've been dealt than worry about whether you'll actually be to access your winnings? The wisdom of the blacklist makes it all possible.