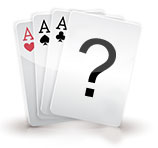 Australian Online Poker FAQ
To help you play online poker with confidence and the ability to win big we have developed this FAQ page to answer any questions you may have before you get started. Our team of dedicated Australian poker players has built this comprehensive list for those that might be still getting to grips with online poker.
Poker is all about fun and we have designed our list of online poker frequently asked questions to help you get straight into some great gaming, without worrying about the details.
Are online poker games fixed?
The Internet is awash with scam artists and there will always be dishonest online poker sites trying to take your money. But if you stick to the trusted sites we've listed at onlinepoker.com.au you're guaranteed a completely honest, transparent and fair experience.
You categorically will not find fixed poker games at the sites we endorse. The software used is specifically designed to randomise play and generate an authentic casino experience.
Are there fees for deposits or withdrawals?
Deposit and withdrawal policies differs from site to site, but as a general rule you won't be charged for putting money into your account or taking it out. There are usually limits set for deposits and withdrawals, and you will almost certainly need to validate your identity before cashing out at an online poker website. A small currency exchange fee may apply if the site you're playing at deals in another currency.
Can anybody play in online poker tournaments?
You will need to register at the site in question before registering for an online real money poker tournament. Once you've done that, you should be able to peruse the available tournaments and register for the ones that suit your needs.
It's worth noting there may occasionally be tournaments that only serve VIP members at an online poker website.
Can I make money playing online poker?
You can make serious money playing online poker if you're good at it and devote the time to it. Some of the world's best poker players are reported to pull in six figures every year through their online poker play, which tells you the money is there if you know the game inside out.
Can I play online without a credit card?
Credit cards are a commonly accepted method of deposit at online poker sites, but there are plenty of other options when it comes to putting money in your account. These include the likes of Neteller, POLi, Skrill, Ukash and wire transfer. Best of all, none of these requires you to have an active credit card registered to your name.
Can I play poker on a Mac?
All the poker sites we recommend are compatible with Mac, be it via a pop-up window for instant play, or by downloading the bespoke software to your desktop.
Poker sites will always cater their software to PC and Mac users, so as not to alienate one group or another. There may be subtle differences in the software, but generally you'll enjoy an identical poker experience.
Can I play poker on my mobile device?
Yes. A large number of online poker sites now facilitate mobile play via smartphone or tablet. Mobile online casinos can be accessed either by visiting a site via your device, or by downloading a free app that provides the same functionality.
We live in a mobile world and it's now possible to play online poker for real money while you're on the go. All you'll need is the registration details you used for the site in question.
Can I play poker online with friends?
Yes you can. Some sites incorporate this facility and it's a great way to get a poker game on with friends that you wouldn't otherwise be able to play with.
It's not always possible to get everyone together in the same place, but by using the wonders of modern technology you can bring friends together and get an online poker game going.
Can people cheat when playing online poker?
The mechanics of online poker software these days make it almost impossible to cheat the system. Players have been known to use fake IDs to benefit from having multiple accounts at the same site, but crackdowns in security measures mean they are very likely to get caught.
Do I need to pay tax on poker winnings?
The good news here is that Australian players pay no tax on online poker winnings. Whatever you make is yours and the Australian government isn't interested in taking a slice before you get it. They do tax the online poker websites however.
How big does my bankroll have to be?
This varies from site to site. Some online poker websites have a minimum deposit amount, which might be as low as $10, though your bankroll can fall to zero before you need to replenish again. There may also be maximum deposit amounts set.
How do I collect my poker winnings?
You collect your poker winnings my making a withdrawal, or cashing out, at the real money online poker site. As a rule you'll first need to validate your identity. Once that's done, just choose a method of withdrawal (credit card, wire transfer, Neteller etc.) and submit your request. The length of time it takes for the withdrawal to be approved and the money to appear in your account will depend on the site in question and the cashout method you've chosen.
How do I receive a poker bonus?
Online poker sites typically offer a welcome bonus to new players. This is designed to encourage you to sign up and usually triggered by entering a special bonus code when you make your first deposit. This will normally work as a commitment from the site to match a set number of deposits to a certain percentage. Other bonuses will be available depending on the site you play at.
Is my personal information safe?
Providing you play at the sites we recommend your personal information is completely safe. We vet poker sites for their security and only those with watertight protection for your personal info and bank details pass our test.
What is a poker Freeroll?
A 'Freeroll tournament' is an online poker tournament that is free to enter. The appeal is that there's usually money or credits of some kind to be won, so a player can get involved at no cost and potentially come away better off.
What type of poker games can I play?
Wherever you play you're going to find Texas Hold'em among the options, as it's the most popular poker game online. Others to look for include Omaha Hi/Lo, seven-card stud and razz.
What is the best poker variant?
Naming your favourite poker variety is very much a subjective choice. There's no doubting the huge global appeal of Texas Hold'em and a lot of people would put it above the rest. That said, each variety has its strengths and weaknesses, and you need to try them all before you land on a preference.
What is the difference between live and online poker?
The most obvious would be your ability to read other players. In a live game at a casino all emotions are on show, but when you're engaged at an online poker casino you never see another players' eyes or facial expression. There are also subtle differences in pots and stakes to be aware of.
What is the minimum age to play online poker in Australia?
You have to be 18 or over to participate in online gambling in Australia. The same rule applies to live casinos, with an age limit of 18 and over set for players wanting to enter.
What is the smallest deposit needed to play online?
The lowest deposit requirement you're likely to find for online poker in Australia is $10. You'll see a lot set at around $20, but it's unlikely you'll find a site that gets you playing for a deposit less than $10.
What poker sites are good for beginners?
As a general rule the easiest poker sites for winning money are those that attract the least accomplished players. Players with barely any knowledge of poker are referred to as "fish" and the more of those you come across, the easier it may become to win. Fish are often drawn to the most high-profile poker sites.
Where can I get help for a gambling problem?
There are a number of excellent support groups in Australia for people suffering from a gambling problem. You'll often find their details at the online poker sites, and if not a quick search should bring a wide variety of options to your attention.
Will I play specifically against Australians? Or can I play against players in other countries?
This will again depend on the site you choose to play at. The major online poker sites attract players from all over the world, so you'll be playing against Australian-based players and also players from other countries.
Can I deposit in Australian dollars?
This will vary from site to site. Some sites may keep all your accounts in US dollars or £UK sterling, so your Australian deposits will be converted immediately. Others will let you operate in Australian currency from start to finish. Either way, if you have Australian currency you can deposit it, it will just be exchanged in some cases.
Can I win seats in land-based events by playing online?
Yes you can. Some of the biggest online poker destinations put on satellite tournaments, which invite you to win a seat at a major live poker tour destination. One minute you're at your laptop, the next you're playing at a casino in Las Vegas with some of the world's best poker stars.
What's the difference between a poker tournament and a Sit & Go?
Regular online poker tournaments are generally planned in advance, start at a set time and can last for a few hours. Sit and go tournaments, on the other hand, work much more around your schedule. You sign up and once a table is full you start playing. The tournament is over faster and there's a heightened intensity to everything.
How many poker games can I play at once on my computer?
There's really no limit here, aside from the speed of your computer and the speed of your poker brain. However, it's never wise to have too many games going at the same time.
How many poker games can I play at once on my mobile device?
Smartphones are relatively small, so multi-tabling isn't really an option. However, some sites let you multi-table on a tablet. It all depends on which poker site you're playing at and what the app supports.