Guide to Razz Poker Sites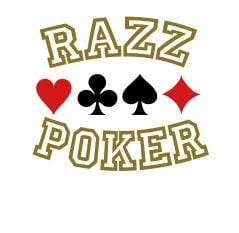 Razz is one of more popular "offbeat" poker games. Not only do most poker sites spread the game, but it's also a popular part of mixed game formats like HORSE - where the R stands for Razz. If you're looking for a Razz online poker site to play on, we've put together a list of some of the best poker sites offering Razz for you to choice from. Our research tells us that is 2023's hottest site for players looking to work on their Razz game, while the rest of our top picks are all perfectly safe places for Australian players to learn this little-known Stud variant.
Razz is an exciting variant of Stud played with low cards
Enjoy plenty of cash game action to suit all wallets
Take down the fish as and trigger bonus money
More About Razz
Razz has been described as a version of poker that can both be among the most enjoyable and most infuriating forms of the game. This helps explain why Razz online poker is so popular. Yes, Razz can be played seriously, and there's a ton of strategy that helps better players win at the game. However, it's also the perfect game to blow off some steam, because many of the hand outcomes in Razz online poker will make you laugh (as long as you have a healthy sense of humour).
Razz is based on seven-card stud, so most Razz online poker rooms are those that feature stud games. In fact, Razz is played very similarly to seven-card stud, with one major exception: the object of the game is to make the worst hand, not the best. However, straights and flushes aren't generally considered when playing Razz, making the best hand possible 5-4-3-2-A. Hands in razz poker online are still ranked by the highest card; for instance, 7-4-3-2-A is a higher hand (and thus worse) than 6-5-4-3-2.
Finding Razz at Australian Sites
As in seven-card stud, in online poker Razz, players begin each hand with three cards: two face down and one face up. Generally, players hope to have low cards in their starting hand, with A-2-3 being considered the best hand. By the end of the hand, players may use any five of their seven cards to make their hand.
And online poker Razz isn't the only form of this game played, either. Razz has been a part of the World Series of Poker almost from the very beginning, with Razz events held at the tournament series nearly every year since 1971.
Each of our recommended sites has been tested and reviewed by our experts.
When we looked for the best Razz poker online for our players, we first had to make sure that all of the sites we reviewed actually had Razz available. While most top sites now offer the game, there are still some that don't include Razz poker. Australia is lucky enough to have a wide range of online poker sites to choose from, though, so we had no trouble finding a number of high quality poker sites offering Razz to their players.
In addition to investigating the Razz online poker options at each site, we also made sure that each site met our specifications for overall quality, as well. Each of our recommended sites has been tested and reviewed to make sure they feature excellent game selection, dependable software, and simple and fast banking options. These sites will not only allow you to play Razz poker in Australia, but have a fun and safe time doing so.
If you've heard all about the excitement of playing Razz poker online but haven't been sure where to start, just pick one of our recommended sites and you can play your first hand in just minutes. Join up at one of the best Razz poker Australia sites today to start learning this fascinating and challenging form of poker!
FAQs
What is Razz poker?
Razz is a form of 7-card Stud played in the same way, but with one big difference: the lowest hand wins. Players are still dealt two cards face down, four up, and one down, but the player with the best low hand takes the pot. A-2-3-4-5 is the best hand in Razz.
How popular is the game online?
Razz enjoys popularity among cash game players online, but it's not as big as Omaha or Texas Hold'em, which still enjoy the lion's share of action.
Does it have good winning opportunities?
As long as you can master the Limit betting and learn some key starting hands, Razz is a good game for anyone looking to advance from Hold'em or Omaha games. It's also a game of bluffing, as opponents are able to see your up-cards. Skillful players can bluff well to force opponents off better hands.
Where can I find the best Razz poker sites?
The bigger websites will run Razz games, and you can usually count on some of the cash games having regular traffic at the low-mid stakes.
How does it compare with other poker games?
If you've played 2-7 lowball or Badugi, Razz is a good game to play as it focuses on the 'worst' hands. It also forms one round of HORSE.