The Best Australian Online Casinos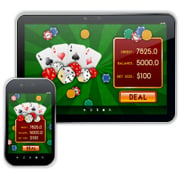 While we mainly focus on talking about poker here, sometimes even poker players want to venture out onto the casino floor and play some of the other popular gambling games. That's why we've taken a close look at the available Australian online casinos, including , which offers a great range of casino games and some fantastic offers for players wishing to unwind after a long grind at the poker tables. With our ratings and reviews of some of the top gambling options in Australia, you can confidently play at a quality online casino that you know you can trust.
Enjoy roulette, blackjack or pokies at any stakes you want
Find the biggest progressive jackpots around
Play enough to trigger a massive welcome bonus
Finding Your Perfect Casino Site
In Australia,casino play online is very popular. While you can't run an casino site if you are an Australian, players are not prohibited in any way from participating in foreign gambling sites, and thousands of Australians do so. This means that online gambling is always just a click away for any Australian citizen.
One of the great things about online casino gambling is that it gives you numerous different ways to win. Instead of competing against other players as in poker, casinos online have you playing against a dealer or machine for the chance to win prizes. These games usually include table games like blackjack and baccarat, slot machines (better known as pokies in Australia), video poker and numerous other options. Many top online casinos feature hundreds of different games, which should be enough to keep any player busy for a long time.
we made sure that only the most reliable and trustworthy sites had a chance to make our list.
In choosing the best casino online for Australians, our reviewers looked at many different factors that should be important to any player considering online play. Most importantly, we made sure that only the most reliable and trustworthy sites had a chance to make our list, while websites that used lesser-known software or that had been cited for issues in the past were immediately rejected. The Australian online casinos on our list were hand-picked by our reviewers to make sure you'd be playing at only the most secure sites.
Get the Best Online Gambling Experience
We've also spent time making sure that these gambling sites have the kinds of bonuses and promotions that will appeal to Australian online casino players. Poker players know a good bonus when they see one, so you'll be happy to know that online casino gambling bonuses tend to be even larger and more generous than the best poker bonuses in the industry.
We also looked at other factors that can make or break your experience at a casino site that accept aussies. For instance, one often overlooked area is customer service -- overlooked, that is, until you need them to help you solve a problem. We made sure that each of these online casino gambling sites had top notch support staff to help you with any issues you might encounter.
We also made sure to pick sites that offered numerous ways to both deposit and withdraw money into your player account. If you're playing both poker and casino games, it can be very important to be able to transfer money between them quickly. All of our recommendations utilise e-wallets and other solutions that allow you to rapidly move money into your accounts. The best online casinos in Australia also offer numerous other ways to make deposits and withdrawals, including by bank transfers and credit cards.
Casino games are purely about luck - the spin of the roulette wheel or the roll of the dice. Many Internet casino players like to try skill-based online games, like poker. Australian online poker is growing in popularity and, like casinos, there's plenty of choice of rooms.
If you've been looking for a way to expand your gambling horizons, there's no better way than by joining a casino online and adding a few new games to your repertoire. To get started, simply take a look at our list of the best online casinos for Australia from our list above, and with just a couple clicks, you can be playing on a new casino site. Choose the Australian online casino that's right for you, and start playing at a top online casino site today!
FAQs:
Are online casinos popular in Australia?
Yes, Australia is home to thousands of online gambling fans who enjoy playing on international sites. They can enjoy real money games in AUD, and have access to some of the top online casino bonuses online.
Are they regulated?
Online casinos for Aussies are regulated overseas in respected jurisdictions like Malta, the UK or Gibraltar. That means the software overseeing games, Random Number Generators (RNGs), and payouts are tested for security and fairness. However, some casinos for Aussies are licensed by the Northern Territory Racing Commission or Norfolk Island Gaming Authority (NIGA) to get around prohibitive federal laws.
What are the most popular casino games?
Easily, online pokies have the biggest draw. Aussies are among the world's biggest pokies nuts, with Australians betting millions on the pokies each year. Roulette and blackjack are also popular games.
What games have the best jackpots?
Progressive jackpot pokies carry the biggest jackpots. Some games regularly record million-dollar jackpots and can even reach 10 million dollars.
How much can I potentially win?
Pokies offer the best chance of big jackpots, but progressives are few and far between. Regular wins up to $1,000 are not uncommon.
How can I trust online casinos to be legit?
Look for a casino to be properly regulated and licensed. Reliable casinos will have licenses that independently audited software to make sure every spin is fair. Real-money payouts will also be tested and checked. For the best legit casino sites, check out list of reviews.
Are online casinos safe?
Yes. Good casinos will have the best online encryption to make sure your login and financial information are protected. There have been horror stories about players' vital details being hacked into or shared, but luckily those are a thing of the past.