Play Omaha Poker at Top Sites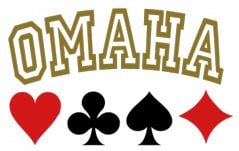 Omaha poker has always been trailing far behind Texas Hold'em in terms of sheer number of players, not to mention attention from poker rooms. In the past few years, though, it seems like there are more online Omaha poker players every day. Part of this trend is the simple fact that online poker is growing in general. Also, with the rising difficulty of online Texas Hold'em games, there is increasing pressure for players to make the move to other poker variations, like online Omaha poker.
Read on as we talk about Omaha poker in general and show you the best online poker rooms for Australian Omaha poker players. As always, these options are places where you can create a free account from Australia, and then play 24/7 with other players from all around the world. Omaha poker players from Australia need not look any further as we have already brought the very best options right to your fingertips; and our number one choice for players looking to get their four-card fix in 2023 is , where a whole host of Omaha tables are waiting.
Find the best sites with full Omaha tables
Enjoy soft cash games with fishy players
Activate a welcome bonus with your Omaha play
About the Omaha Game
You may already know, but Omaha poker has a whole lot in common with Texas Hold'em. There are both community cards (those which any player can use) and personally held cards. In total, there will be five community cards laid on the table, and each player's hand will have four cards. Using these different cards, your job is to make the best five-card hand possible, but you cannot necessarily mix and match cards like you could in Texas Hold'em. Instead, you must use exactly two of the cards from your hand and exactly three of the cards from the table – the community cards. This restriction is hugely important in terms of understanding the game and its strategy.
it you are making the switch from Hold'em to Omaha poker, you should have a relatively easy time making the transition.
In the standard variation of the game, the hand rankings are standard, but there are other popular versions of this game that use different hand rankings. Also, assuming you are playing the standard variation of the game (Omaha High), the gameplay and strategy will feel similar to Texas Hold'em. The details go beyond the scope of this article, but if you are making the switch from Hold'em to Omaha poker, you should have a relatively easy time making the transition.
Some Sites Are Better Than Others
Among the many different poker sites that you will encounter on the Internet, some of them will be great choices for Australian poker players. But even between these solid poker sites, some are just bound to be better than others when it comes to online Omaha poker. As we have already mentioned, Omaha poker is still in a distant second place when compared with Hold'em, in terms of traffic. This means that the smaller sites, particularly in off-peak hours, may have a hard time populating the Omaha tables. Playing Omaha poker in Australia exacerbates this problem because the peak hours in Europe and North America are generally inconvenient.
Additionally, there are many different Omaha poker variants such as Hi/Lo and 8 or Better. Some poker sites, often the largest options, offer more of these games than others. We also have to consider the variety of betting options like Limit and Pot Limit which, again, are more likely to be offered by the larger online Omaha poker rooms. Luckily, you have found this site and, as such, do not need to worry about searching through the many online poker rooms to find the best one for online Omaha poker. Just look at our recommendations for the best places for Australian players and you will be ready to get started right away.
FAQs
What is Omaha poker?
Omaha is a version of Hold'em played with four cards. There's a community board of five cards, as in Texas Hold'em, but players must use two of their hole cards with any three on the board to make a hand.
How popular is the game online?
Pot Limit Omaha is very popular as a cash game online, although the game in general still isn't as popular as Texas Hold'em. Good poker websites have cash games at all stakes running around the clock. While less popular, Omaha tournaments still dish out thousands of bucks in prize money.
Does it have good winning opportunities?
Yes, if you can master a few of the basics. Many fishy Omaha players come to the game via Texas Hold'em and find it hard to adapt.
Where can I find the best Omaha poker sites?
Check out our site reviews for the best Omaha poker rooms in 2023. They have top software, a great range of games to suit all wallets, and guaranteed traffic so you won't be waiting for a table to fill up.
How does it compare with other poker games?
Although similar to Texas Hold'em, there are subtle and important differences with Omaha. The betting is different (usually Pot Limit) and the way you bet on draws and re-draws makes it a more 'thinking' game than Hold'em. Omaha Hi-Lo makes you have to consider both high and low hands.