Sports Betting Online – Australian Sportsbooks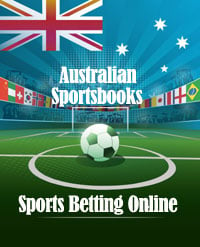 OnlinePoker.com.au offers information and links to premium Australian online sportsbooks. Whether you enjoy sports betting that is loved by Australians or those popular in the US, UK, Asia, or other parts of the world, you'll find that there's an Australian sports betting online site that's right for you. is just one of the many great Australian-friendly poker sites that has an adjoining sportsbook, but its consistently great odds make it easily our top pick for 2023.
One of the most important criteria that serious punters utilise when choosing the sports betting sites they will frequent is what sports are offered. Some sites will focus primarily on matches, games, events, and races held in Australia, while others will have a much broader reach, including sports and leagues from the US, Asia, Europe, and/or South America. Before joining any site, make sure that it has the sports, leagues, and specific events on which you want to bet.
Also, it's a good idea to join and use more than one sportsbook. In doing so, you'll give yourself the best chance of finding the most advantageous odds, getting the best bonuses, and discovering the finest deals. One site may have low vig on certain sports, another may offer a unique sport-specific promotion, while yet another may have a special free bet offer running. Look for special promotions and specific deals that will give you an edge when it comes to betting.
Sports Offered
Racing – Horse and Dog Tracks
It's a common occurrence to be able to also bet on horse and dog races. Although race books are usually separate from sportsbooks, they are easily accessed. Many sports betting sites include thoroughbred, harness, and greyhound racing from Australian tracks. They may also cover races at various tracks around the globe, including those in the US, UK, New Zealand, Asia, various parts of Europe, and South America. However, the extent of races offered does vary a lot from sports bets site to site and some will offer fewer than 20 per day, while others will provide hundreds and some more than a thousand races on which one may bet.
There are various sports that you will always find at Australian sportsbooks. Those are those that Australian sports bettors love to wager on, such Australian Rules Football (AFL), National Rugby League (NRL) and Rugby Union (RU), cricket, and soccer. Every online sports bet site carries these.
Other sports punters are likely to find include tennis, auto racing, golf, swimming, cycling, boxing, and MMA. Games associated with North America, such as baseball, football, basketball, and ice hockey, are also usually available to bettors. Often you'll be able to bet on NCAA football and basketball as well as the NFL, NBA, and WNBA. Some books will also provide sports betting opportunities on baseball, football, basketball, and hockey if they are played in other regions, such as Asia, Europe, and South America. One case in point is basketball. You'll find that various sports betting sites in Australia will provide access to games in Australia, Europe, Japan, and Mexico.
Australian sportsbooks also tend to give bettors plenty of chances to wager on soccer around the world. This includes World Cup, Champions League, Europa League, and various international tournaments. Featured leagues may include the English Premier League, Ligue in France, Bundesliga in Germany, Serie A in Italy, La Liga in Spain, and MLS in the US.
Kinds of Bets Offered
If you enjoy playing the basic bets, that is moneylines, point spreads, and totals, then you'll find them readily available at all Australian sports betting online sites. These are bread and butter bets that serve as the foundation for successful sports betting. If you wager on baseball, you'll be able to play runlines, and if you enjoy betting in ice hockey, you can wager using the puckline. Also, three-way betting is on-hand for various sports such as soccer and ice hockey.
Some sites include a full range of proposition bets and exotics. For those Australian sports bettors who love the challenge of the parlay, you'll certainly find plenty of opportunities to make this popular combination wager. Plus, you'll be able to bet using teasers, reverse bets, and, at some online sportsbooks, pleasers.
Although proposition bets, which are also known as props, tend to be fairly risky wagers, many bettors love to play them. Some challenging props that you may find on a per game basis include picking the winning margin, determining the exact score, choosing who will score first, and betting on player totals. Many sites will offer a dozen or more props on one contest.
By the way, if you're betting on sports online in Australia, you will not be able to make a live wager through the book's website. That type of live betting is not allowed. Anyone placing a wager on a game that is in progress may do so over the phone and not online.
There are also a lot of chances to add extra cash to your bankroll by qualifying for bonuses, free bets, and special promotions.
Special Promotions and Bonuses
There's a lot of great bonus action for sports bettors who frequent Australian books. Included are welcome and first deposit bonuses, which can be to 100% or more on your first deposit, and reload bonuses, which you can qualify for whenever you deposit more money in your sports betting online account.
You'll also be able to access an array of rewards and enjoy various special promotions. Free bets may be awarded for using a site's mobile betting app the first time, trying a new feature that the book is offering, or making a first wager on an online casino game or at the horse book.
Australian sports betting sites often give cash back on specific races where you bet the favourite, and if they lose, you're refunded you wager. They may also compensate you for a percentage of your weekly or monthly losses. Special codes are required for certain promotions, and if there is a contest, fantasy league, or drawing for prizes, you may have to opt in to be eligible to win.
Utilizing Australian Sportsbooks
Sports betting Australia sites are extremely active. They provide punters with a wide range of betting opportunities. Australian markets are always highlighted, but most quality sportsbooks also provide bettors with the chance to wager on leagues and sports around the world.
There are also a lot of chances to add extra cash to your bankroll by qualifying for bonuses, free bets, and special promotions. For sports bettors who are interested in discovering value, taking advantage of deals, and accessing the best lines, the Australian sportsbet marketplace awaits you. Be sure you take advantage of the opportunities available at various books. Make smart choices and look for and exploit every possible advantage that you can get. Place your bets and the best of luck to you!
Sports Betting FAQ
How does sports betting work?
Sports betting can be easily defined as betting on the outcome of an event. If the betted event occurs, then the bettor is the winner. If it fails to happen, then the bettor loses the money. You can place bets on the outcome of events of all kinds of sports from athletic sports such as football to non-human sports such as horse racing.
What sports can I bet on?
The more common sports that Oz bettors wager on are AFL, NRL and RU, cricket, and soccer. You can also bet on tennis, auto racing, golf, swimming, cycling, boxing, and MMA. Some bookmakers will even allow you to bet on games associated with North America, Europe, Japan, and Mexico.
Where can I find a good welcome bonus?
Sportsbet, Ladbrokes and Bet365 have great sign up bonuses such as a $250 matchbet offer, first bet match up to $250 and 100% up to $200 respectively. Each of the sites are compatible with iOS, Android, Windows and Mac devices.
Can betting be profitable?
Betting can definitely be profitable as it has more to do with skill than luck. Beginners might not find as much success as veteran bettors, but with practice you will be able to start raking in the cash. It is important to look at guides when betting your first few times, but eventually you won't need it.
Do the odds change?
Yes, odds change depending on two factors, the number of bets for a specific outcome and if something has happened to one of the players. To stay on top of changes to the odds, it is important to keep up with the news surrounding the particular match. The media has a lot of influence on the popularity of athletes in their matches.
Are the odds different site to site?
The odds can differ across a myriad of websites so it is important to do your research before placing a bet. It is always good to keep tabs on the websites that you trust to make sure you are placing your bets in the most favourable way.
Should I use a system?
It is important to have a strategy when becoming a bettor as you want to do your best to increase your betting account balance. There are plenty of ways to come up with your own system, but for the first few times it is important to check out a few guides on the better strategies out there.