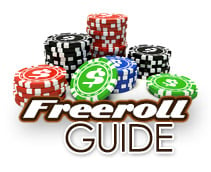 Online Poker Freeroll Guide
Tournament poker is perhaps the most exciting form of poker play around. The elimination-based gameplay means that players can always be just one hand away from going home, while the huge prizes available for the winner and other top finishers allow players who are lucky, good or (usually) both to suddenly come into life changing money at the turn of a card.
Of course, tournament poker can also be a bit intimidating, especially if you have to put up your own money. Luckily, there are opportunities even for those players who are a little nervous about spending real money on a poker tournament. Known as freerolls, these tournaments won't cost you a dime to play, but they could allow you to win some real cash if you can come out on top. Offering a host of great added-value freerolls at virtually any time of the day, is far and away the best place to play for those looking to experience risk-free tournament action in 2023.
Win real money online without paying for an entry
Earn a share of guaranteed prizepools from the biggest sites
Win your way into big buyin live poker events

What Should You Expect?
Freerolls come in all shapes and sizes. The exact formats of freerolls will depend on the site you choose to play at; however, you can expect that most of all forms of poker that are represented on your site will also appear as freerolls at some point or another. Of course, the most common game in freerolls will be Texas Hold'em, with Omaha also being widely spread.
The actual value in these freeroll events can be much higher than it first appears.
The size of freerolls can vary greatly depending on the game being played and the site in question. However, the biggest factor may be the prizes involved. A tournament that only awards a few dollars will draw a smaller crowd than one with thousands in prize money, while one that awards tickets to a bigger real money tournament might be even more popular. If the freeroll is an exclusive one that isn't open to the public, the field will be much smaller, making the tournament much more valuable to those who can play.
One aspect that makes freeroll tournaments so attractive is the weak fields they tend to attract. Most serious players will stay away from the vast majority of freerolls because they simply aren't worth their time. That leaves only very casual players in the tournament, and many of them won't even take the tournament seriously. That means that the actual value in these freeroll events can be much higher than it first appears.
Playing Freerolls for Fun and Profit
If you want to make any money playing freerolls, you'll have to do very well in them. Unlike a standard poker tournament where the players build the prize pool, freeroll tournaments feature fixed prize amounts. That usually means there are only a certain number of prizes available no matter how many players show up - which is different than a standard tournament that may pay 10-20% of the top finishers.
This means that it's very hard to make any real money by playing solely in freeroll events. That doesn't mean you can't do this: there's no restriction on how many freerolls you can take part in, and you don't have to spend the money you win (though you may have to take part in a small amount of play on the site before you're allowed to withdrawal your winnings - policies vary by site). Just don't expect to make a living on your freeroll earnings.
That doesn't mean freerolls can't be important to a serious player. You can use your freeroll winning to play in real money cash games or tournaments, which could lead to even bigger winnings. In fact, many professional poker players have started their careers by winning freeroll prizes and then turning that cash into more money at the real money tables - meaning they never had to deposit a dime in order to fund their poker careers.
FAQs
What is a Freeroll?
A freeroll is a tournament that costs nothing to play, but which offers some form of real prizes to players. These tournaments differ from play money tournaments in that there are actual prizes, whereas a play money event will only return more play money to the winning players. Almost all sites offer them, though the number and size of freerolls will vary depending on where you play.
Freerolls are a common offering on online poker sites. While sites aren't making any money off these tournaments, they offer them in order to attract players at relatively low cost. They can also be used to reward loyal players; many VIP programs include access to lucrative freerolls that are exclusive to players who have earned a certain number of rewards points or have played enough hands to qualify.
Many players wonder if freerolls are really free, or if there are hidden costs. Any true freeroll will be entirely free: you pay nothing to play, and you get to keep whatever you win, or use it in the poker room as you see fit.
How do they work?
Freerolls form part of the normal tournament lobby but there's no buy-in attached. They usually come in Texas Hold'em but you'll find freerolls in other variants like Omaha and Stud. You play them as you would normal MTTs, with a prizepool and payouts determined before they start.
How should I play freerolls?
Because they're free to enter, freerolls tend to attract casual players without a bankroll or real-money players just looking for a way to fill the time. That means the play will often be pretty wild and fast, and you may find some pretty fishy play with opponents calling you down.
How can I win?
The best way to cash in a freeroll is to play super-tight and pick your spots. Bet your premium hands hard and take advantage of loose players who will call you down with garbage. Don't be afraid to over-bet or go all-in as you will invariably get a caller.
Where can I find them?
All the biggest sites offer daily and weekly freerolls (just look under the Freerolls tab in the tournament lobby) with hundreds or thousands of dollars up for grabs.