Poker Software Explained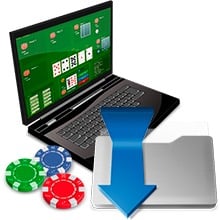 In poker, luck is vastly overrated. It doesn't matter who you are or how long you've been playing. You can always expect your share of humiliating defeats but also the kind of legendary triumphs that you'll be telling your grandchildren about decades from now. Success and failure don't come from superstition. What you really need are a solid set of skills, the discipline to stick to a proven strategy, and the best information available to tie it all together. While time and patience are certainly critical to your success, having access to facts, figures, and statistics can give you the real upper hand. That's precisely why more online players are letting online poker software do their legwork and handiwork.
What Is Poker Software?
When we speak of poker software, we're not talking about the free gaming software you use to access tables and tournaments at your favourite online poker room. That's what's known as the poker client or poker room software. While many top poker clients do include valuable tools like the ability to review hand histories and keep notes on your competitors, their functionality is rather basic compared to third party tools. Today's poker software can do everything. Get real time tips for each hand as you play, automate your play, or even receive player info drawn from a private central database.
Why Use Poker Software?
All poker software has the same goal, which is to give you an edge. That edge varies widely in proportions, scope, and legality. As far as some poker rooms are concerned, using some types of poker software is considered cheating. The creators of these software packages contend that they are offering tools that help you make informed decisions. If you dig a little deeper, it should be evident that the truth lies somewhere in the middle.
Popular Poker Software
There are dozens of popular tools to elevate your game. Here are some of the leaders in the field. Be sure to check with your preferred poker room before installing.
The Tools To Succeed
At its core, poker software exists to give you the information you need to make better educated decisions. That can include gauging your past performance by generating reports, replaying hands, analysing your game, and critiquing your losses. Learning from your mistakes is a great way to improve your game and develop a winning strategy, but that's only half the story.
Poker Software
Pros
The next best thing to a table side tutor
Gives you the information you need to succeed without slowing down play
Dramatically improves your odds of winning
Can quickly transform beginners into knowledgeable poker players
Free options available
Poker software can actually help you while you play. That involves everything from offering up numerical odds that predict your chance of success in a given hand to providing player profiles that let you know a player's past behaviour. Watch for HUD or Heads Up Display software, which will display the statistics you need right on the table.
Controversy
It's best to take a common sense approach when using poker software. First comes the obvious prohibitions like revealing your hole cards to other players. Naturally you can't use macros or programs that play automatically on your behalf either. That means no grinding your way to riches robotically.
All sites tend to prohibit any kind of software that is connected to a central database. You aren't allowed to share player profiles, hand histories and notes with third parties. You are free to create your own database and notes for games that you participate in but you aren't allowed to share that info. You aren't even allowed to create your own database by sitting tableside and observing or using any kind of automatic tools.
Poker Software
Cons
Considered cheating by many popular poker rooms
Top tools can be expensive for part time players
Not compatible with popular smartphones and tablets
May not operate correctly with no download poker rooms
Players suspected of using prohibited software may face bans or have their bankrolls frozen
Does It Work?
Poker software does actually work. Even the most basic tools like odds calculators and player notes will quickly improve your results. Just knowing a particular player's tendencies is the next best thing to seeing their hole cards. That's why access to a comprehensive database of player profiles can be considered collusion or cheating. It's really that valuable. Poker software definitely enhances player performance but can also create an unlevel playing field if abused. When trying to give yourself an edge, it's important not to undermine the spirit of the game. Do you want your opponents to have inside info on your history, personality, and tendencies at the table?
If you want to duplicate your online success in the real world, realise that you won't be able to use your poker software during the final table at the WSOP or even during a live game with your mates. However, just by using this software you can learn the odds like the back of your hand and see the error of your ways. It really can up your game in the long run. Consider it to be your training wheels on the way to poker's version of the Tour De France.
Legal Issues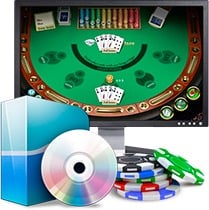 Most poker rooms have specific policies regarding what type of software packages you can use while playing at their site. Keep in mind it's difficult for these sites to know what tools you're taking advantage of, unless you admit to them. It is technically possible for sites to do their own detective work to substantiate their suspicions, which is why it's always advisable to be humble and cautious. Read the terms of use wherever you play and know whether you are breaking the rules if you opt to do so.
Remember that by creating an online poker account you are required to agree to an often lengthy user agreement. While most people tend to gloss over pages and pages of jargon, you may have agreed not to use certain third party tools. Poker rooms are well within their rights to implement their own poker software policies. It's your responsibility to make sure you comply. Whatever you do, don't raise any red flags.