Sit And Go Formats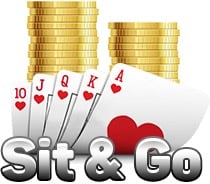 Many new poker players mistakenly assume that Sit And Go tournaments feature only single tables. In reality it's been almost a couple of decades since online Sit And Go tournaments were limited to the traditional nine-player format. These days you'll find dozens of Sit and Go or SnG formats online and there are technically infinite possibilities, especially after you factor in different buy-ins, poker variations, limits, paces, and the number of players just for starters. It's really just a question of today's online poker rooms meeting and exceeding the demand of the card playing community.
Don't worry about being overwhelmed by your options. We're here to get you up to speed and in the game as quickly and confidently as imaginable. Get familiar with the formats and move on to a quick strategy session.
The Common Thread
The one thing all Sit and Go tournaments have in common is the lack of a scheduled start time. Just visit the lobby of any online poker room and browse the SnG tab or filter by Sit And Go tournament to see how many options there are. Getting in the game is simply a matter of paying your buy-in and taking your seat. The tournament will start when all the available seats are filled, which sometimes happens within seconds. Larger tournaments take longer to fill up, but you won't be playing the waiting game for long on a high traffic site, especially during prime time. Tournament fans tend to keep a watchful eye on the SnG action and join in droves.
Traditional 9-Man
Sit And Go Tournaments At A Glance
You'll find SnG tournaments for every budget with buy-ins ranging from zero to thousands of dollars.
Full ring, 6-Max, heads up, and 10-man tournaments are the most common SnG formats.
No Limit Texas Holdem is the most popular SnG game type but you'll find Omaha, mixed games, and other variations as well as fixed limit games on larger sites.
Since large SnG tournaments can last hour, stick to cash games if you can't make the time commitment.
Single table SnG tourneys tend to be decided in an hour, with heads up being resolved even faster.
Take advantage of turbo, hyper turbo, and super turbo SnGs for faster and more intense action.
The original Sit and Go tournament format continues to be the most popular. 9-Man tournaments feature nine players competing at a single table. Enjoy final table action from your very first hand. You'll need to finish in the top three to get paid. First place wins half of the prize pool, second place takes home 30%, and third place wins 20%. You may see these tournaments described as full ring SnGs on some sites.
6-Max SnG
As the name implies, 6-Max tournaments pit six players against each other at a single table. Although similar to their traditional 9-man counterparts, you'll experience faster play especially in the early stages of the game. You can also expect to play more of your hands. Only the top two players will get paid. The payout schedule varies, but the winner's haul is usually around 65-75%.
Heads Up SnG
Heads up Sit and Go tournaments tend to play out quickly as two players battle for survival and ultimately supremacy. These games tend to be settled swiftly with the winner taking all.
Ten Handed Tournaments
Ten handed SnGs add an extra seat to the traditional nine-man format. You'll find this arrangement in double or nothing tournaments that call for an even number of players. You may recall that in double or nothing games, half the players double their money while the other half win nothing at all.
18 to 180 Men Or More
If you crave multi-table tournament action but want to play right now, then be on the lookout for 18 player, 90 player, or 180 player tournaments. These tournaments feature multiple tables that get consolidated after players get defeated. It's technically possible to schedule tournaments featuring any multiple of 9, whether it's 9, 72, 360, or anything else you can dream up. Check with your poker room for the exact payout schedule. It is common for 9 people to get paid in a 90 seat tournament and 18 people to get paid in a 180 seat tournament.
Less Common Game Sizes
If you play stud variations, you might notice tables limited to eight seats. That's simply so the dealer doesn't run out of cards.
Some sites also offer games featuring multiple six-max or heads up tables. These tables play out as you would expect. In a four player heads up tournament for example, the winner of each heads up table face each other in the next round. Just remember if you can dream up a seating arrangement, you'll probably find it somewhere.
Pick Up The Pace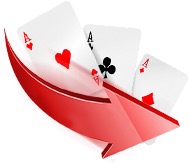 If the standard Sit and Go speed doesn't suit your style most poker rooms are ready to satisfy your need for speed. You'll find turbo, hyper turbo, and even super turbo tournaments. The terminology varies from site to site but you can expect the blinds to increase more frequently with each succeeding speed level. The hyper and super turbo tournaments also reduce the number of starting chips. It all adds up to greater intensity and significantly faster games.
If you want to slow things down, you can try playing deep-stack tournaments where everyone starts with twice the chips. No matter which direction you take your game, check with your favourite poker room for all your options.