Poker Sites with the Most Fish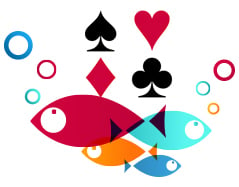 Playing online poker? Most fish sites are the ones you want to play at. While simply playing online poker can be fun on its own, after a while it stops being enjoyable if you are not winning. With that in mind, we have identified the poker sites with the worst players and most fish in 2023.
But before you play at just any one of the fishiest poker sites on our list, it's important to understand that not all fish are created equal, just like all fish poker sites aren't on the same level. Our top pick in this regard is , where a greater focus on the social aspect of the game has resulted in schools of fish flocking to the tables in 2023. Read on to find out more.
Play against poor players and win more cash
Find sites with more fishy players at all levels
Crush the soft games and earn a welcome bonus fast

We Found the Best Sites
Our reviewers found the top poker sites with the most fish the only way they know how: by actually going out and playing on these websites to gauge the quality and spread of the players on show. Thanks to the proliferation of training videos and coaching, poker players in 2023 are generally stronger than they have been in the past, however it is still possible to find fish out there.
We have provided a clear guide to the poker rooms with the worst players and the most fish, so Oz players know where to look for an easy game. Read the reviews, find a site you like, create an account, and hit the tables. Oh, and make sure you come hungry.
FAQs
What are poker fish?
When we first learn about types of poker player, the easiest way to understand the ecology of the game is to divide the player pool into sharks and fish. Put simply, sharks are the strongest players, who you want to steer clear of, and fish are the exact opposite. If you want to win money, looking for the poker sites with the most fish is always a good starting point.
Different players can be categorised as fish for different reasons, but typically they will make basic mistakes that more experienced players have learned to cut out almost as second nature. Examples include overvaluing or undervaluing hands, calling too much when they should be raising, or not understanding intricacies like bet sizing and pot odds.
Why it's great to look for fish
Online poker doesn't have the same natural social element you see in home games or even casino cash games or tournament, making the pursuit of money even more of a priority for players at internet poker rooms. Easy to beat Aussie online poker sites provide the perfect combination of regular games and inexperienced players, maximising your chance of winning big.
In addition, as you play more and more poker, the calibre of your opponents can help shape your game going forward. Just as experienced players benefit from discussing hands with their peers, beginners can learn what not to do by playing in poker rooms with the worst players. And, of course, if a site is known to have a lot of fish then it will usually attract more players looking to prey on weak opposition. As a result, poker online most fish websites will often have all the benefits you would associate with high traffic rooms, namely regular cash games and tournaments with big guaranteed prize pools.
How do you Find Them?
There's a famous saying in the movie Rounders that "If you can't spot the sucker in the first half hour at the table, then you are the sucker." Substitute 'sucker' for 'fish' and the point stands, suggesting when you play online poker most fish are easy to identify.
Among the things to look out for are players who get involved in a noticeably large number of pots, particularly if they repeatedly call rather than raise. Another sign of a weak player is a poor grasp of bet sizing, either making bets that are too small or too big relative to the size of the pot.
Where do They Come From?
In addition to the above there are other ways to identify a site likely to have plenty of fish, for example an online poker room tied to a sportsbook is often prone to having inexperienced players take their sports betting winnings to the poker tables. These days there are not that many standalone poker sites, and many of the easy to beat Aussie poker sites are those tied to a sportsbook or to an online casino.
The poker rooms with the worst players in Australia will often lure fish simply by offering other internet gambling games with less of a skill element than poker, with slots and casino table games like blackjack and roulette chief among these. However the top poker sites with the most fish also often lure weaker players with generous sign-up offers, occasionally taking the form of free no-strings-attached money, in an effort to encourage them to deposit real money after getting a taste for the game.
Which poker site has the most fish?
You'll usually find fishy players at big, popular sites that advertise a lot or are connected to online sportsbooks. Find a good range of fishy poker sites with our recommended reviews.
Does this only work for certain poker games?
Fishy players can always help you earn more winnings, regardless of the game. However, if you're a Texas Hold'em player you'll find more fish as it's the game most poker players learn first. Fish can be found at less-popular variants like Razz and HORSE too, as they'll be trying out a new game for a bit of fun.
Should I always seek out fish?
Not always. Although fish are good to exploit to make some easy bucks, you always run into the danger of being sucked out on. Mix things up and test your skills against better players from time to time. As novice players improve, they tend to tighten up, and that's when you can grind out some nice winnings by becoming more aggressive.