Play Badugi at Top Poker Sites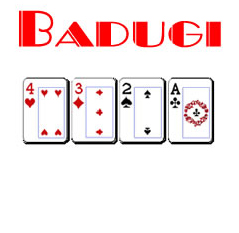 Badugi Poker, a form of draw poker, remains fairly unknown among online poker players and poker rooms. Having said that, it can still be found online and, if you know where to look, there really are some decent places for Australian players to play this unique poker game. To save you the time, we have already done all of the hard work and compiled a list of the absolute best Badugi online poker sites. Read on as we take a look at Badugi poker, who should play it, and the hottest sites to play Badugi poker online; including our top-ranked Badugi site, , where you'll find some of the softest games around.
If you are reading this page, you may already be an avid Badugi poker player. If you are just curious, though, you might be wondering why someone would choose to play Badugi poker. Of course, switching games requires you to relearn the rules, hand rankings, and strategy. In the case of Badugi poker, it may be worth all of the trouble. If you are dismayed by the competition in mid-level stakes Texas Hold'em games, you can get away from the hardened veterans by changing your game. With a bit of skill, you should have no problem poaching the recreational players that just want to try something different.
Learn an exciting variant available at bigger sites
Home your Draw Poker skills with this 4-card version
Take down fishy players who haven't mastered the skills
What is Badugi?
Thought to have its roots in South Korea, the history of Badugi poker is unclear until it made its first appearance in the United States at the start of the new millennium. This is, obviously, one of the most recently accepted poker games in the world, and its appearance in the western world coincided perfectly with the rise of online poker. Although the name and mysterious origin make Badugi seem completely foreign, the truth is that this game is basically a form of lowball triple draw. Here's how you play.
In general, the strategy is similar to other kinds of draw poker.
Each player has a four card hand. The goal is to make the lowest possible hand (aces acting as the lowest valued card) but without any cards with matching suits or ranks. To create these hands, players go through three rounds of drawing where they can choose to change anywhere from zero to four cards. There is betting in between each round unless all remaining players choose to "check" - make no wager. Most Badugi online poker sites will also require players to post blinds prior to the start of each hand.
At the end of the final round of Badugi poker betting, players must discard any cards that result in having cards with matching suits or ranks. Having four completely unique cards is called a Badugi, and any Badugi poker hand will automatically beat any other hand with fewer cards. Among the hands with the most cards, the hand with the "lowest" values (by traditional poker standards) will win the pot. In general, the strategy is similar to other kinds of draw poker.
Find the Best Sites to Play
When you want to play a less common game, such as Badugi, size really does matter. Smaller badugi online poker sites just don't have enough traffic to keep things interesting. Especially, if you were hoping for options with different kinds of limits, or even some kind of mixed game, you are going to have to focus on the largest badugi online poker sites. Not to worry, though, because this website has all of the information and recommendations you need to find the best Australian-friendly poker rooms for badugi players!
FAQs
What is Badugi?
Badugi is a draw poker variant played with four cards. In between betting rounds, players take it in turns to exchange cards in their hands in order to make the lowest hand. A 'Badugi' is four cards running A-2-3-4 in different suits.
How popular is the game online?
While only available at the bigger poker sites, Badugi is gaining popularity, especially in cash games. It's a fun game to learn, and if you've come from lowball games like Razz or 2-7 Lowball, it's an easy game to pick up. Badugi tournaments are played in some of the bigger online series.
What are the winning opportunities like?
A four-card Badugi (four low cards with different suits) is rare, so often you'll be playing an opponent with the lowest three cards of different suits. Good three-card hands are therefore the absolute minimum you need to be aiming for.
How does it compare with other poker games?
Because the game is played lowball (the lowest, or 'worst' hand wins), Badugi shares some traits with Razz and 2-7. However, it is also usually played with Fixed Limit, Limit or Pot Limit betting, making it ideal for fans of PLO or Limit Stud.