Online Poker Sites with the Highest Traffic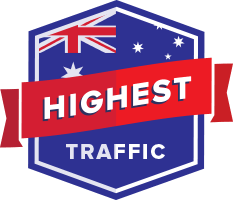 It is a common saying that 'bigger is better', and sometimes the cliché does not ring true. However when it comes to online poker in Australia in 2023 this truly is the case. High volume poker websites improve the experience for Aussie players no end, and the internet poker sites with the most traffic have a huge head start over smaller websites.
Not only does a site with more traffic offer more freedom to players (more on this later), but it offers more freedom to the sites themselves: if they want to experiment with new tournaments or promotions, a large and loyal player base is nigh on essential. Many of the best innovations in online poker in recent years have been made possible because the sites responsible have high traffic; and is one of the biggest rooms around in terms of its regular player pool.
Enjoy the most popular sites with packed games 24/7
Follow the crowd with the most trustworthy rooms
Work through your real-cash deposit bonuses faster

The importance of traffic
How many times have you got home from work, fired up your laptop and headed to your favourite poker room only to find all the cash game tables at your preferred stakes are empty? If you play at one of the highest traffic online poker sites in Australia then we'd wager that it hasn't happened all that much, but a lack of opponents can be a real issue for Oz players on smaller poker rooms.
Bigger sites means bigger guarantees.
This can particularly be the case when players are looking to earn a certain amount of frequent player points to unlock a bonus. If this is simply impossible due to a lack of traffic, then chances are a player will not return and the internet poker room will only suffer as a consequence.
As well as offering a multitude of poker variants and stakes, high traffic poker sites can offer big guarantees in their scheduled tournaments. The prizepools are by and large tied to the number of players high volume poker rooms expect to be able to attract (they want to avoid an overlay where possible), so bigger sites means bigger guarantees. And of course this is great news for Aussie players dreaming of that big tournament score.
Do Aussie sites have a lot of traffic?
In terms of a variety of high volume poker rooms online Australia is right up there. Players from Down Under can play with opponents from across the world on internet poker sites licensed offshore (usually in Europe or the Caribbean), so there is as much traffic for Aussie players than those anywhere else, if not more.
There is of course the small matter of time differences, meaning AU players using high traffic poker sites may find a poker room to be at its busiest at times more suited to European or Latin American time zones (as this is where a great number of poker players reside). However it could be a lot worse. In 2023 many European countries and US states have ring-fenced poker rooms online, meaning players are restricted to playing against opponents from their state or country. When compared with this, Aussies have it good traffic-wise.
We List the Best Sites
Our team of reviewers has seen pretty much everything there is to see when it comes to online poker, and it is their job to find the best and highest traffic online poker sites for players from Australia. They have independently tested every site they recommend, to make sure not only does it have high volume, but it has the right kind of traffic: players who are active at all hours so Australian players can find someone to play against.
These reviewers and researchers are poker players themselves, so they approach the process with a player's mindset. There are many high volume poker rooms online for Australian players in 2023, and our team has identified the best ones, working on a number of crucial criteria. Of course high traffic is a priority, but Oz poker sites need to tick a number of other boxes in order to ensure they receive a recommendation from our review team.
FAQs
Why should I choose a high traffic site?
Poker players love to follow the crowd, and a site with the highest traffic means it's trusted by lots of players. Also, more players means bigger prize pools, guaranteed cash games whenever you want, and big live event satellites.
How can I find these sites?
Check out monitoring websites that chart where the best traffic is, or read our recommended reviews to find the highest traffic poker sites in 2023.
Is the traffic from Australia or worldwide?
Both. The best sites enjoy traffic from Oz and Europe, but Americans will often be missing.
Should I avoid low traffic sites?
Not necessarily. Low traffic rooms might be poor-quality but they also might be new start-ups who have yet to attract a lot of players. Also, low traffic sites may offer big guarantees with lots of potential overlay for you to snap up.